Ruby Singh & the Future Ancestors Friday, April 14, 2023 at 8:00 PM PDT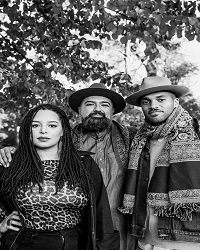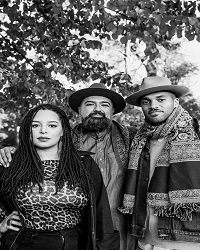 You've selected
Friday, April 14, 2023 at 8:00 PM PDT
×
Ruby Singh is a descendant of the land of five rivers and the Moon itself, with Rajput lineage from the edge of the Thar desert. The Future Ancestors come together to conjure sonic remedies to heal, guide and inspire the spirits of our kin, both known and unknown, seen and unseen. From celestial to terrestrial, spanning ancient realms into what's to come, the Future Ancestors kick up stardust from the shelves of our spirits to bring joy into these trying times.
Singh has assembled yet another formidable crew with long intertwined destinies to undertake these visions; Khari Wendell McClelland and Holly Eccleston bring deep soul and harmony with their gift of song; The JUNO Award winning talents of Gord Grdina on oud and guitar; holding down the rhythm section are the phenom Kenton Loewen on drums, typewriters, dried flowers and glass bottles with the deep grooves of Peter Schmitt on bass; Paul Finlay crossfades and scratches like a painter across a canvas.
"Multi-visionary ... new musical supergroup ... explosive, fierce, infectious psychedllic grooves" Exclaim Magazine
"Mesmerizing, vibrant ... Singh isn't just crossing genres, he's straddling astral planes" Globe and Mail
"Top 5 back to school records ... straight-up funk off ... A-list collection .. slamming ... exceptionally potent" The Vancover Sun
No refunds on tickets $2.00 fee per ticket for exchanges
Venue
Studio Theatre
6450 Deer Lake Ave
Burnaby BC V5G 2J3
Performance Notes
Tales of home and wandering, love and longing, justice and hope envelop this album. Singh weaves together inspiration from the Delta Blues and Qawaali to golden era Hip Hop by chopping and stitching samples into a tapestry of spirit expressed. He then gathered this stellar matrix of artist kin to embody and elevate the sound and feel.
Mesmerizing, vibrant ... Singh isn't just crossing genres, he's straddling astral planes" Globe and Mail