Jazz at the 'Bolt Saturday February 12 2022 at 11:30 AM PST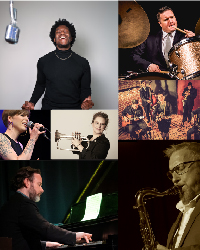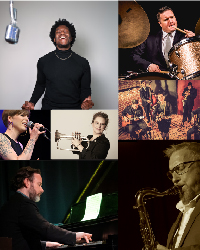 You've selected
Saturday February 12 2022 at 11:30 AM PST
Change Date
×
NOTES:February 11th Friday
8:00 – 10:00 James Cowan Mike LeDonne Groover Quartet + Big Band
February 12th Saturday
11:30 – 12:45 Room 103 -Jesse Cahill Trio featuring Nicole Glover 11:45 – 1:00 Studio Theatre -Ardeshir Pourkeramati Quartet 12:00 – 1:15 James Cowan -Eric Alexander Quartet
1:30 – 2:45 Studio #103 - Steve Kaldestad Quartet 1:45 – 3:00 Studio Theatre -Alex Claffy Quintet feat. Nicole Glover 2:00 – 3:15 James Cowan -Daphne Roubini & Black Gardenia
3:30 – 4:45 Studio #103 -Tilden Webb Trio with Peter Bernstein 3:45 – 5:00 Studio Theatre -Alex Claffy Quintet feat. Nicole Glover 4:00 – 5:15 James Cowan -Bruno Hubert Trio
5:30 – 6:30 Studio #103 - Anthony Wonsey Trio 5:45 – 6:45 Studio Theatre -Cory Weeds & The Groover Quartet 6:00 – 7:00 James Cowan -Michael Stephenson
7:15 – 8:15 Studio#103 -Anthony Wonsey Trio 7:30 – 8:30 Studio Theatre -Cory Weeds & The Groover Quartet 7:45 – 8:45 James Cowan -Michael Stephenson
February 13th
11:30 – 12:45 Studio #103 -Steve Maddock 11:45 – 1:00 Studio Theatre -Morgan Childs Quartet 12:00 – 1:115 James Cowan -Tilden Webb Trio with Jocelyn Gould
1:30 – 2:45 Studio #103 -Nightcrawlers 1:45 – 3:00 Studio Theatre -KITT 2:00 – 3:15 James Cowan-Amanda Tosoff Trio
3:30 – 4:45 Studio #103 -Jerry Cook Quintet 3:45 – 5:00 Studio Theatre -Tom Keenlyside Quintet 4:00 – 5:15 James Cowan-Blue Moon Marquee
5:30 – 6:45 Studio #103 -Angela Wrigley Trio 5:45 – 7:00 Studio Theatre -Ostara Project 6:00 – 7:15 James Cowan -Ryan Oliver and Strings
7:15 – 8:30 Studio #103 - Mike Allen Trio 7:30 – 8:45 Studio Theatre -Ostara Project 7:45 – 9:00 James Cowan -Cory Weeds and Strings
Patrons can print E-tickets. All tickets purchased online must be picked up at the Box Office, either during regular Box Office hours, or at Will Call. No refunds on tickets $2.00 fee per ticket for exchanges
Venue
Shadbolt Centre
6450 Deer Lake Ave
Burnaby BC V5G 2J3
Performance Notes
These are LIVESTREAMING tickets please select the other event if you would like to purchase IN PERSON tickets.

Jazz at the 'Bolt

Saturday All day: 11:45am - 6:45pm

Performances include all Studio Theatre Events:

11:45 – 1:00 Studio Theatre -Ardeshir Pourkeramati Quartet

1:45 – 3:00 Studio Theatre -Alex Claffy Quintet feat. Nicole Glover

5:45 – 6:45 Studio Theatre -Cory Weeds & The Groover Quartet



Livestreaming SINGLE DAY $15, Livestreaming FULL WEEKEND $35

Contact the box office at 604-205-3000 for more information on tickets.