Samantha Martin & Delta Sugar Thursday, November 24, 2022 at 8:00 PM PST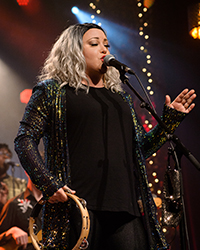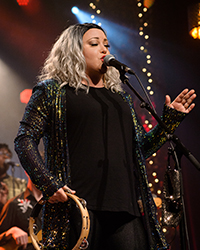 You've selected
Thursday, November 24, 2022 at 8:00 PM PST
Change Date
×
NOTES:
Martin is a dynamic front woman, she possesses a stunning voice that is capable of summoning up tidal waves of spine-tingling emotion in one instance while delicately bringing out the nuances of a gut-wrenching lyric in the next. A torrid force of nature, night after night she takes audiences to emotional peaks while leaving them stunned with her sheer pin-you-against-the-wall power.
On "Run to Me" Martin elected to record her emotionally wrought material with an expanded band, augmenting the core of Delta Sugar's gospel-infused harmonies with a full rhythm section, piano, organ and an ever-so-soulful horn section. The Reckless One continues in the same trajectory, further expanding the palate of sounds with vibes, mellotron, Wurlitzer, Hammond and Farfisa organs plus strings.
While Martin is a powerhouse unto herself, the vocal alchemy of Delta Sugar is not the work of a single talent. In combination with what she likes to term her "co-vocalists," the vocal blend that Delta Sugar produces is pure, unadulterated gospel-tinged, neuron-tingling magic where the sum is even richer than the already soul-melting parts.
Patrons can print E-tickets.
No refunds on tickets $2.00 fee per ticket for exchanges
Venue
Studio Theatre
6450 Deer Lake Ave
Burnaby BC V5G 2J3
Performance Notes
These are LIVESTREAM tickets please select the other event if you would like to purchase IN PERSON tickets.

With the worldwide pandemic wrecking utter havoc upon the careers of many musicians, Samantha Martin & Delta Sugar elected to use their time off the road to record, mix and master their latest tour-de-force, the astonishingly powerful, funky and deeply soulful The Reckless One, come and enjoy this amazing evening of music

Tickets: Livestreaming $15

Contact the box office at 604-205-3000 with any ticketing questions.

To view your livestream event, log into your ticketing account HOME PAGE and chose "Tickets for Upcoming Performances" to view.