The Paperboys Thursday March 18 2021 at 7:30 PM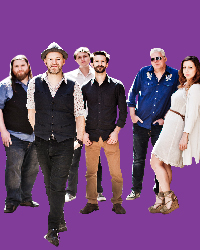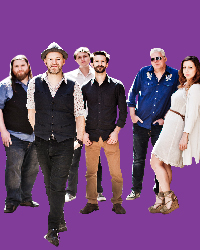 You've selected
Thursday March 18 2021 at 7:30 PM
×
Mexican Son Jarocho mixed in with Irish Jigs and Reels and a good dose of Country and Bluegrass. It has healthy servings of Ska, Soca and African Highlife and we've been known to throw in a little White Boy Reggae. Of course it also has strains of Soul, Pop and Funk although we are by no means a funk band. It is mostly Acoustic although we also like Electric guitars. It is Singer-Songwriter based but not the coffee house variety. It is definitely FOLK music, but not in the Kumbaya style. It has a deep respect and appreciation for tradition (Bluegrass, Old Time, Celtic, Son) but it's by no means Traditional. It Rocks incredibly hard and is extremely danceable, but that is not to say it can't be mellow and slow and beautiful. It can be heart breaking, but also joyous. It is never dark or angst ridden, and always full of hope - but not in the 'Up With People' kind of way. It's not Jazz, although we like Jazz a lot. It's not heavy metal or punk or grunge, although we love Rush and AC/DC. It is World Roots Music. It's POP music. It is GOOD music. It has a tendency to connect people and means a lot to many folks the world over, and for that we are very grateful. It is the only multi-cultural, multi-ethnic, multi-generational, multi-lingual, multi-instrumental, genre bending, co-ed band you will hear today!!
The Paperboys Website
No refunds on tickets $2.00 fee per ticket for exchanges
Venue
Studio Theatre-Live Streaming
6450 Deer Lake Ave
Burnaby BC V5G 2J3
Performance Notes
The Paperboys are a Canadian folk music band from Vancouver that formed in 1991. The Paperboys blend Celtic folk with bluegrass, Mexican, Eastern European, African, zydeco, soul and country influences.

7:30pm - Pre-recorded dance performance

8:00pm - The Paperboys LIVE performance

To access the event online, login to your ticket buying page, and from the Home Tab select 'Tickets for Upcoming Performances'. Click on the Watch Box and you will be able to watch the performance.

A limited number of tickets to attend the concert in person may be available depending on the Public Health Restrictions. Please contact the box office at 604-205-3000 to purchase in person tickets. Tickets to attend in person are sold in groups of 2 or more.
×
There are a limited number of live tickets available for in person tickets. Please contact the box office in advance at 604-205-3000 to book tickets and find out the Covid protocol. Doors will open 10 minutes before show time.