Pechakucha Night Wednesday February 19 2020 at 7:00 PM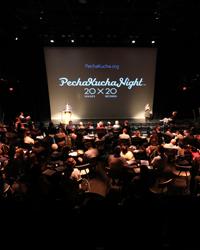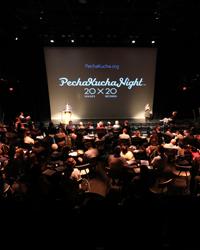 You've selected
Wednesday February 19 2020 at 7:00 PM
×
Event time: 7:00pm-9:00pm
Back by popular demand, we are thrilled to announce Burnaby's sixth PechaKucha night. On Wednersday, February 19, 2020, we invite presenters to share their stories and creative ideas in the PechaKucha 20 x 20 format in a theme that represents passion and creativities. Come join us! Please, register early and get your FREE tickets!
In the event of a sell out, unclaimed tickets may be released 15 minutes before the show. \
Venue
Studio Theatre
6450 Deer Lake Ave
Burnaby BC V5G 2J3
Performance Notes
PechaKucha's 20x20 presentation format shows your 20 chosen images, each for 20 seconds. In other words, you've got 400 seconds to tell your story, with visuals guiding the way. PechaKucha means "chit chat" in Japanese. This creative outlet began as nighttime get-togethers in Tokyo in 2003 by two renowned architects. Since then, three million people have attended PechaKucha events worldwide, come see what the night has to offer
×
This is a general admission performance - the seats are on a first come, first serve basis when you arrive at the theatre.
Doors open 1/2 hour prior to start of performance.