Pechakucha Night Wednesday February 20 2019 at 6:30 PM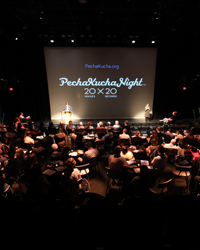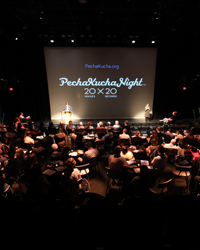 You've selected
Wednesday February 20 2019 at 6:30 PM
×
Event time: 6:30pm-9:00pm
Back by popular demand, we are thrilled to announce Burnaby's third PechaKucha night. On Wednesday, February 20, 2019, we invite presenters to share their stories and creative ideas in the PechaKucha 20 x 20 format in a theme that represents passion and creativities. Come join us! Please, register early and get your FREE tickets!
In the event of a sell out, unclaimed tickets may be released 15 minutes before the show.
Venue
Studio Theatre
6450 Deer Lake Ave
Burnaby BC V5G 2J3
Performance Notes
PechaKucha Nights are informal gatherings where people get together and share their ideas, work, thoughts, and basically anything creative they deem worth sharing in the PechaKucha 20×20 format. This art of this concise presentation format allows presenters to present 20 images with each image on the screen for just 20 seconds. Some presenters tell stories about creative ideas they come up with, some stories are personal, some are funny, and most of all, they connect people with each other through these individual narratives.
×
This is a general admission performance - the seats are on a first come, first serve basis when you arrive at the theatre.
Doors open 1/2 hour prior to start of performance.