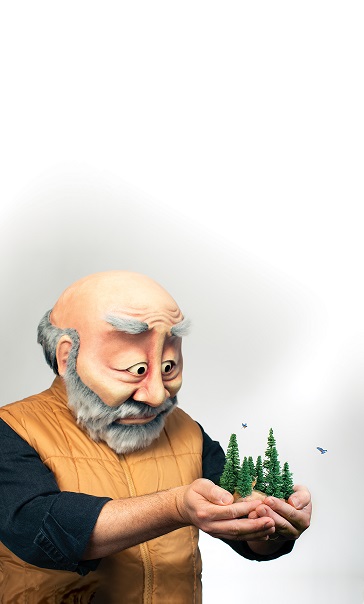 Wonderheads - The Wilds
When
Occurs on Sunday March 17 2024
Approximate running time: 0 hours and 55 minutes
Venue
Event Notes
×
Love knows no bounds.
When Wendell discovers that his wife Tilda and their beloved tree have vanished from the backyard, he must venture into the nearby forest to bring them home. Confronted with shifting landscapes, unusual creatures, and a mysterious lurking presence, Wendell soon learns that the key to finding Tilda is to first unlock the mystery of The Wilds. Charming and profoundly touching, this wordless award-winning show features WONDERHEADS' signature masks, whimsical puppetry, and enchanting music, and moves its audiences to both laughter and tears. Pixar meets Miyazaki meets Henson in this extraordinary adventure!
★★★★★ "Nothing short of exceptional." - Winnipeg Free Press
★★★★★ "A profoundly moving story of love, loss and hope." - CBC
★★★★★ "An astounding production." ‐ Vue Weekly
Running time: 55 minutes, no intermission.
This production touches on themes of grief, loss, and love. Recommended for a general audience (ages 8+).
Click here for Website
TICKET FEES
Adults 35.00
Seniors (60yrs +) 30.00
Students (with valid student ID) 30.00
Youth (18yrs & under) 20.00

SUBSCRIPTIONS
Purchase 3 separate regular season shows for the same patron for a special subscription price. Arts Club on tour excluded. Any additional ticket purchased for the season will be under the subscription price.
Adults 30.00
Seniors (60yrs +) 25.00
*Purchase subscriptions by phone or in person at the box office

If you need accessible seating please call the box office at 604.320.3000 to reserve this seating.
No refunds on tickets. 2.00 fee per ticket for exchanges
Contact the box office at 604-205-3000 with any ticketing questions.

Contact the box office at 604-205-3000 with any ticketing questions.