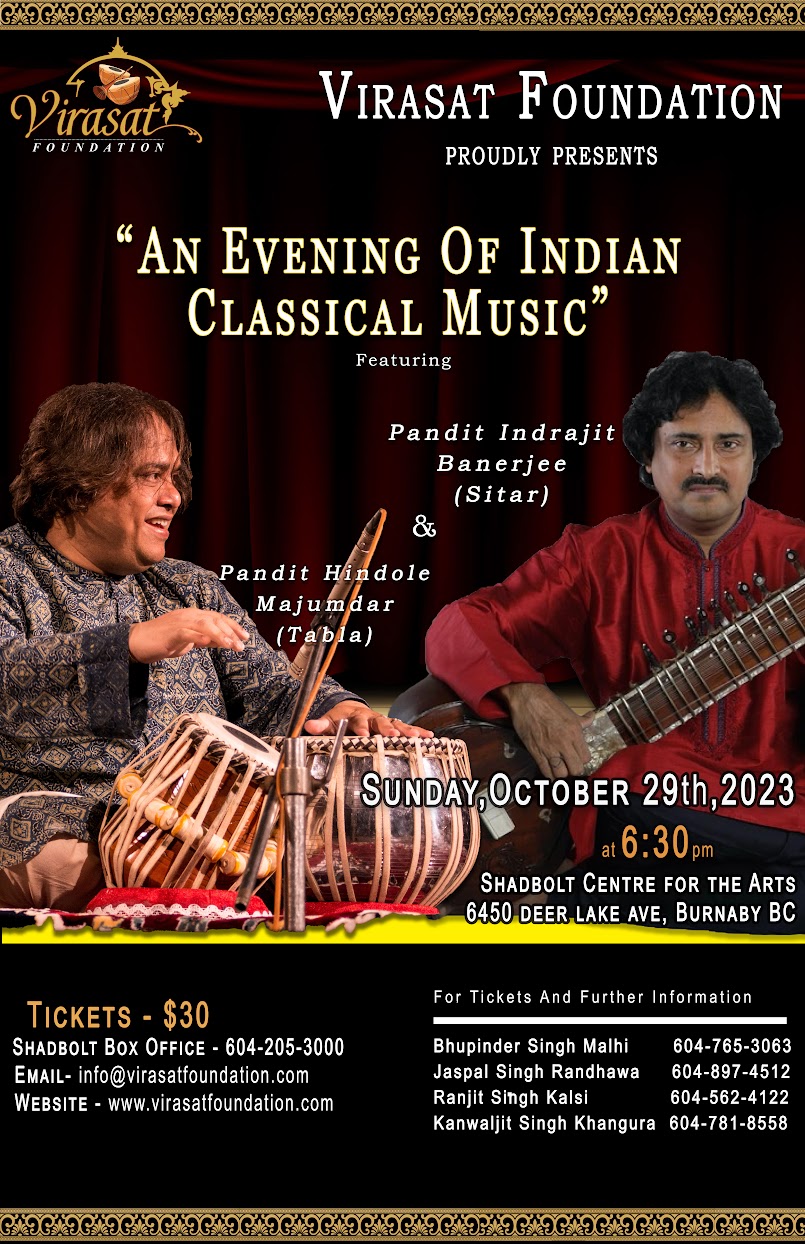 An Evening of Indian Classical Music
When
Occurs on Sunday October 29 2023
Approximate running time: 3 hours
Venue
Event Notes
×
An Evening of Indian Classical Music
Dive deep into the ethereal world of Indian classical music with a rare, transformative experience that promises to transport your senses to lands of timeless traditions.
Witness the Magic of Two Maestros: Pandit Indrajit Banerjee: Known for his divine touch on the sitar, Pandit Banerjee's melodies weave a tapestry of emotions. His music is a seamless blend of tradition and innovation, a journey that speaks to both the heart and the soul. Pandit Hindole Majumdar: A maestro on the tabla, his rhythms are the heartbeats of the ancient lands. Pandit Majumdar's beats tell tales of times gone by and set the stage for the dance of life that unfolds with each strike.
Why Attend?
A Rare Confluence: Opportunities to witness such a harmonious union of sitar and tabla are rare. This is more than just an evening; it's an odyssey of discovery. Cultural Immersion: Go beyond just listening. Immerse yourself in the stories, traditions, and nuances that make Indian classical music an unparalleled art form.
A Perfect Evening Out: Set against a backdrop of elegance, this is the perfect evening for those who cherish art, culture, and the finer things in life.
While our venue is fully accessible, mobility access is limited. If you require mobility accommodations please contact our box office in advance of your show so that we can be prepared to accommodate your needs
Click here for Website
No refunds on tickets
$2.00 fee per ticket for exchanges
Contact the box office at 604-205-3000 with any ticketing questions.