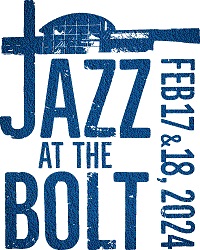 Jazz @ The'Bolt Sunday Ticket
When
Occurs on Sunday February 18 2024
All Day Event
Venue
Event Notes
×
Jazz at the Bolt, now in its 4th year, has become an annual Burnaby treasure. A music festival that celebrates diversity, community, and jazz music.
Through his many jazz endeavours festival founder Cory Weeds has fostered relationships with musicians from all over the world, specifically New York City. This year's festival features four bands coming from the Big Apple alongside groups from Houston, Toronto and more.
With multiple stages to choose from, music lovers can enjoy all the music on offer, as well as spend time in a welcoming music community. Where hanging out with old and new friends is as much a part of the festival as the music!
SUNDAY SEPTEMBER 18
11:30am - 12:45pm - Infidels Presents The Infidels All Stars
11:45am - 1:00pm - Chris Wong: Journeys To The Bandstand
12:00pm - 1:15pm - Sharon Minemoto Quartet
1:30pm - 2:45pm - Infidels Presents: Roisin Adams Trio
1:45pm - 3:00pm - Chris Wong: Journeys To The Bandstand
2:00pm - 3:00pm - Vanisha Gould
3:30pm - 4:45pm - Oliver Gannon Quartet
3:45pm - 5:00pm - Steve Kaldestad Quartet
4:00pm - 5:00pm - Vanisha Gould
5:30pm - 6:45pm - Noah Franche Nolan
5:45pm - 7:00pm - Mike Allen Trio
6:00pm - 7:00pm - Neil Swainson Quintet
7:30pm - 8:30pm - TBA
7:15pm - 8:45pm - TBA
7:45pm - 8:45pm - Neil Swainson Quintet
Day ticket $60.00
Weekend pass $100.00
Senior/Student day ticket $45.00
Senior/Student weekend pass $75.00
*lineups subject to change, please visit
coryweeds.com
for complete lineup info
$2.00 fee per ticket for exchanges