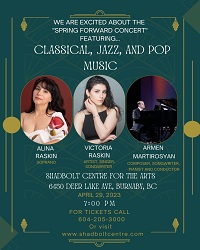 Spring Forward Concert
When
Occurs on Saturday April 29 2023
Approximate running time: 2 hours and 15 minutes
Venue
Event Notes
×
Spring Forward Concert (featuring classical, jazz, and pop music)
Saturday April 29, 2023 @7:00PM
The Spring Forward Concert is a multimedia musical concert featuring performances from Alina Raskin, Victoria Raskin, and Armen Martirosyan. Enjoy a timeless transition between musical genres and the diversity and talent of each performer. There will be free parking, and a buffet you can get snacks and drinks from during the intermission.
Tickets: Adult $45 Students $38 Seniors $38
Performers:
ALINA RASKIN is a tremendously gifted artist with diverse musical knowledge and skills. The accomplished musician derives from Armenia and now resides in Vancouver, Canada. Alina's grasp on her craft is built on her extensive experience of studying music intensively throughout her life. She has an impressive understanding of all things music but specializes in voice, piano and violin. Her unique voice has received many compliments for its warm flair. More recently, Alina has developed gracefully with a soulful dramatic edge to her vocal stylings. Being fluent in 4 languages, she is most known in the community for her diverse multicultural repertoire, especially her Armenian repertoire. Alina is a pillar in the Vancouver arts community and a key member to contemporary-classical music at large.
VICTORIA RASKIN is a Canadian multi-disciplinary artist. Born in Tel-Aviv, Israel, to Armenian-European-Israeli parents. She grew up heavily influenced by music, dance, and the performing arts, as well as literature. Over the past 20 years, Victoria continues and maintains vigorous practice in original music production/songwriting, singing, dance, acting, and writing. With her artistic and academic educational background, Victoria creates a diverse array of high-quality projects that showcase unique artistic expression and invigorate. Her mission is to continue to create, invigorate, and inspire.
ARMEN MARTIROSYAN is an accomplished composer and songwriter with vast experience in writing instrumental music in a wide range of genres: academic, jazz, fusion, ethnic, rock and pop, as well as award-winning songs for a variety of performers around the world. Renowned band-leader with over 20 years experience of conducting performances and recordings of jazz ensembles with international touring experience. Over 30 years of expertise in arrangement, orchestration and musical adaptation. Classically trained pianist with concert recital experience, an expert in jazz and blues piano with over 30 years of live and studio experience. Experienced music teacher and piano instructor.
Performance Notes: Join us for a night of music and entertainment. Please note, some performances will use projections, lights, and a few numbers may contain some lightly suggestive choreography that may not be suitable for all audiences. Follow us on Facebook if you have any questions and for updates at Raskin's School of Music here: https://www.facebook.com/alinaraskinmusic