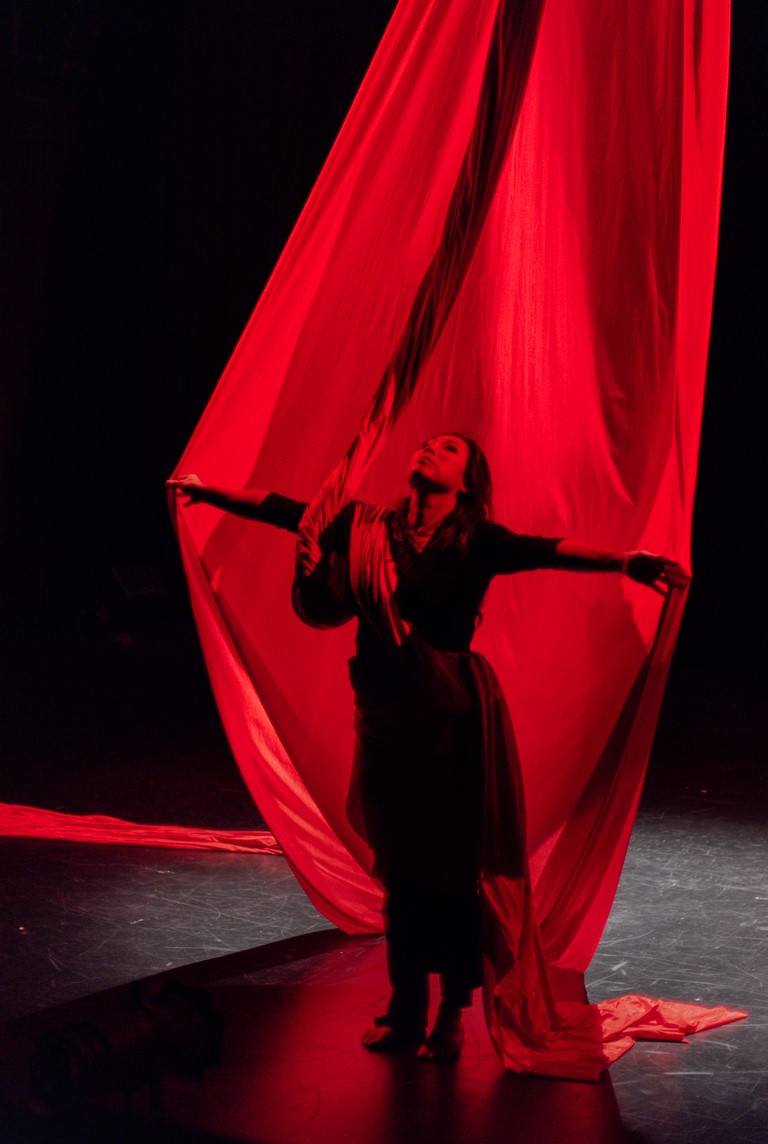 Kasandra Flamenco Presents Rojo Y Sombra
When
Runs from Friday May 26 2023 to Saturday May 27 2023
Approximate running time: 1 hour and 30 minutes
Venue
Event Notes
×
Kasandra Flamenco Presents ROJO Y SOMBRA, "Red and Shadows", a contemporary-flamenco exploration into the energies of the root chakra
Chakra means "wheel of energy" and the Root resides at the base of our spine, representing human feelings about safety and security, primal animal self, physical embodiment on this Earth and our connection to ancestors. "ROJO Y SOMBRA" means "red and shadows" which depicts our passion, blood, primal instincts when confronted by the darkness of fear. This dance spectacular is a visceral expression of our emotions in a world turned upside down and the dance delves into our shadows, exploring ego and fear. This is contemporary and flamenco dance imagined with the textures of rich, exquisite red silk fabric that spans the stage. Like the imagery of the silk fabric spinning in circles and infinity symbols, the dance spirals into emotional complexity.
Through evocative dance with red silk, the dance intelligently weaves the spectrum of traditional, fiery Flamenco & avant-garde contemporary dance genres. The finale is a trio between Kasandra "La China" bailaora, contemporary dancers Alvin Tolentino & Andreana Karogiannis where they explore the yin and yang textures of the fabric. Sometimes soft and flowing, other times elastic and violent, this represents the ebb and flow, dynamic tension and balancing of feminine and masculine energies.
The show features the inspirational music of composer and flamenco guitarist, Josue Tacoronte, whose imagination is not bound by linear time or space. Josue brings the show to life with virtuosic classical, flamenco and contemporary guitar with electronic soundscape and percussion.
Experience a fresh theatrical look at flamenco with the Kasandra Flamenco Ensemble, a group that has been dubbed "a feast for the eyes and ears with an energy that flows like water and skips like fire". Kasandra "La China" is one of Canada's leading flamenco artists renowned for her unrelenting drive to push the artistic envelope. Kasandra is always hungry for new sources of inspiration and knowledge and "ROJO Y SOMBRA" is her first full length show featuring contemporary-flamenco, as she has spent years researching the essences of red aerial silk fabric and it has been a journey to discover connecting and being at one with the fabric.
The Kasandra Flamenco Ensemble:
Kasandra "La China", Artistic Director and Flamenco Dancer
Alvin Tolentino, Contemporary Dancer
Andreana Karogiannis, Contemporary and Flamenco Dancer
Josue Otero Tacoronte, Composer-Guitarist
Kasandra's Website
Theatre seating Contact the box office at 604-205-3000 with any ticketing questions.
No refunds on tickets $2.00 fee per ticket for exchanges