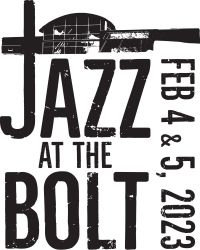 Jazz @ The'Bolt Saturday
When
Occurs on Saturday February 4 2023
All Day Event
Venue
Event Notes
×
Jazz Impresario Cory Weeds brings together the best of Vancouver's jazz talent with renowned artists from across Canada and internationally. Last year, despite COVID restrictions limiting the venues to half-capacity, the Shadbolt was filled with joyous and celebratory energy. This year, with full-capacity audiences and an even stronger lineup, the event is sure to be better than ever.
This year's programming features a varied and extraordinarily talented roster. We've teamed up with Tim Reinert of Infidels Jazz to present a handful of emerging artists over the two days.
Saturday, February 4th is headlined by alto saxophonist Jesse Davis with The Spike Wilner Trio, Lezlie Harrison & her group, and tenor saxophone phenom Seamus Blake with the Vancouver Jazz Orchestra.
February 4th

Infidels Jazz Emerging Artist: Connor Lum 11:30AM - 12:45, Room 103

John Lee Trio 11:45 AM - 1:00, Studio Theatre

Boxcar 12:00-1:15, James Cowan Theatre

Infidels Jazz Emerging Artist: Alvin Brendan Trio 1:30 - 2:45, Room 103

James Dandefer Sextet 1:45 - 3:00, Studio Theatre

From New York: Jesse Davis & The Spike Wilner Trio 2:00 - 3:00 & 4:00 - 5:00 James Cowan Theatre

Jeremy Wong Quartet 3:30 - 4:45, Room 103

Sienna Dahlen / Bill Coon 3:45 - 5:00, Studio Theatre

Jillian Lebeck Trio 5:30 - 6:45, Room 103

From New York: Lezlie Harrison 5:45 - 6:45 and 7:30 - 8:30, Studio Theatre

Seamus Blake and The Vancouver Jazz Orchestra 6:00 - 7:00 & 7:45 - 8:45, James Cowan Theatre

Jodi Proznick Quartet 7:15 - 8:30, Room 103
*lineups subject to change, please visit
coryweeds.com
for complete lineup info
NOTES:
$2.00 fee per ticket for exchanges