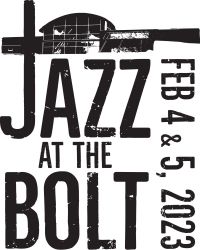 Jazz @ The'Bolt Weekend Pass
When
Occurs on Saturday February 4 2023
All Day Event
Venue
Event Notes
×
Jazz Impresario Cory Weeds brings together the best of Vancouver's jazz talent with renowned artists from across Canada and internationally. Last year, despite COVID restrictions limiting the venues to half-capacity, the Shadbolt was filled with joyous and celebratory energy. This year, with full-capacity audiences and an even stronger lineup, the event is sure to be better than ever.
This year's programming features a varied and extraordinarily talented roster. We've teamed up with Tim Reinert of Infidels Jazz to present a handful of emerging artists over the two days.
Saturday, February 4th is headlined by alto saxophonist Jesse Davis with The Spike Wilner Trio, Lezlie Harrison & her group, and tenor saxophone phenom Seamus Blake with the Vancouver Jazz Orchestra.
Sunday, February 5th features performances by pianist Miki Yamanaka with Mark Turner and The Generations Quartet featuring the daughter/father combo of clarinetist Virginia MacDonald and tenor saxophonist Kirk MacDonald.
Other highlights include Sienna Dahlen/Bill Coon, the James Danderfer Sextet, Indo-Jazz Fusion project Raagaverse led by Shruti Ramani, André Lachance's Quator, and many more!
February 4th

Infidels Jazz Emerging Artist: Connor Lum 11:30AM - 12:45, Room 103

John Lee Trio 11:45 AM - 1:00, Studio Theatre

Paul Pigat|Boxcar 12:00-1:15, James Cowan Theatre

Infidels Jazz Emernging Aritst: Alvin Brendan Trio 1:30 - 2:45, Room 103

James Dandefer Sextet 1:45 - 3:00, Studio Theatre

From New York: Jesse Davis & The Spike Wilner Trio 2:00 - 3:00 & 4:00 - 5:00 James Cowan Theatre

Jeremy Wong Quartet 3:30 - 4:45, Room 103

Sienna Dahlen / Bill Coon 3:45 - 5:00, Studio Theatre

Jillian Lebeck Trio 5:30 - 6:45, Room 103

From New York: Lezlie Harrison 5:45 - 6:45 and 7:30 - 8:30, Studio Theatre

Seamus Blake and The Vancouver Jazz Orchestra 6:00 - 7:00 & 7:45 - 8:45, James Cowan Theatre

Jodi Proznick Quartet 7:15 - 8:30, Room 103
*lineups subject to change, please visit
coryweeds.com
for complete lineup info
February 5th

Infidels Jazz Emerging Artist - Feven Kidane 11:30AM - 12:45, Room 103

Jennifer Scott Quartet 11:45 AM - 1:00, Studio Theatre Raagaverse 12:00 - 1:15, James Cowan Theatre

Infidels Jazz Emerging Artist - Teresa Marie 1:30 - 2:45, Room 103

Quatuor André Lachance 1:45 - 3:00, Studio Theatre

Joel Haynes Quartet featuring Seamus Blake 2:00 - 3:00 & 4:00 - 5:15. James Cowan Theatre

Malleus Trio 3:30 - 4:45, Room 103

Nightcrawlers 3:45 - 5:00, Studio Theatre Campbell Ryga Quartet 5:30 - 6:45, Room 103

From New York: Miki Yamanaka Quartet featuring Mark Turner 5:45 - 6:45 & 7:30 - 8:30, Studio Theatre

Generations Quartet featuring Virginia & Kirk Macdonald 6:00 - 7:00 & 7:45 - 8:45

Jimi James Trio with John Gross 7:15 - 8:30, Room 103
*lineups subject to change, please visit
coryweeds.com
for complete lineup info
NOTES:
No refunds on tickets $2.00 fee per ticket for exchanges