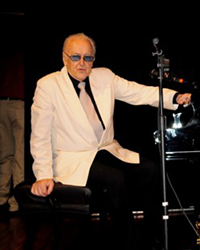 There'll Never Be Another You
When
Occurs on Saturday November 12 2022
Approximate running time: 2 hours and 30 minutes
Venue
Event Notes
×
There'll Never Be Another You
Start time 6:00pm
A musical tribute to Polish-Canadian composer Ryszard Wrzaskała presented by North Shore Polish Association Belweder and Monica Sowinski.
Featuring performances by:
Monica Sowinski (soprano) accompanied by pianists Dina Kholina and Miri Lee. Denis Petrov (vocalist) accompanied by violinist Elvira Voskanyan and dancers Victoria Kazantseva and Polina Kazantseva. Deana Zhdanova (vocalist) accompanied by guitarist Sergey Maryshev, pianist Slava Alexandrov and saxophonist Alexandr Maier. Elvira Voskanyan (violin). Miri Lee (pianist). Chorus Juventus directed by Olga Tokmakova and accompanied by guitarist Sergey Maryshev and bass guitarist Slava Alexandrov.
Born on March 1, 1932 in Znin, Poland, Ryszard Wrzaskała (1932-2018) was a widely recognized and loved composer, arranger, symphonic conductor and teacher. "His heart – and creative soul – is in composing. ...Wrzaskała has written more than 200 songs in English and Polish, most of them arranged as instrumental pieces... He also received more than 30 distinctions and honorary mentions over the world, including two gold medals in the Netherlands' Expo 2000 Song Festival for the Best Song and Best Arrangement of his song "Zelazowa Wola" and another gold in 2002 for the Best Canadian Song "Lonely Man" at the same festival" (Melanie Minty, Now Newspaper). His song "Beautiful and Free" was featured as one of the 15 official songs for Canada's 150th Anniversary.
Wrzaskała's compositions range from classical to ragtime, pop, soul, jazz and blues. His many songs are known for their charming character and include lyrics in both English and Polish.
No refunds on tickets
$2.00 fee per ticket for exchanges