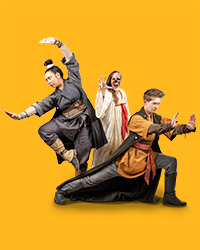 The Five Vengeances Livestream
When
Occurs on Saturday October 1 2022
Approximate running time: 2 hours and 15 minutes
Venue
Event Notes
×
The Five Vengeances is a queer love story that follows Fury, a raging warrior out to avenge the murder of her love Bella by the detestable Overlord. With only the aid of her old friend, Shotgun, Fury has to infiltrate the corrupt ranks of the Overlord's Empire to exact her revenge. However, members of the royal family have their own devious plans, and Fury soon finds herself tangled deep in the snake pit ultimately realizing that vengeance is never a painless road. A comedic twist on a classic Jacobean tragedy, T5V gives the feel of 1970's kung-fu cinema.
Click here for Affair of Honor Website
Content Advisory:
This play includes scenes of violence, references to sexual violence, and coarse language.
Effects:
haze, loud noises and flashing lights.
Recommended for ages 14+
NOTES:
No refunds on tickets $2.00 fee per ticket for exchanges