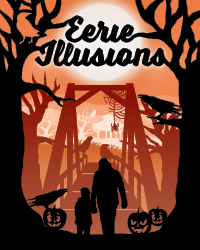 Eerie Illusions
When
Runs from Thursday October 20 2022 to Sunday October 30 2022
Approximate running time: 1 hour
Venue
Event Notes
×
Eerie Illusions at the Burnaby Village Museum
Tickets:
$5 for children (2-12 years)
$10 for adults
Burnaby Village Museum will once again transform into a magical world bathed in breathtaking colour with the return of Eerie Illusions. This popular event will captivate visitors with new displays, costumed staff, live performances and surprises hidden in the shadows. This self-guided family friendly Halloween experience is suitable for all ages. Visitors are encouraged to come in costume and explore Burnaby Village Museum's 10 acre venue. Utilizing state-of-the-art lighting, projections, soundscapes and special effects, Eerie Illusions will thrill and amaze.
Food trucks will also be available with offerings from: Green Coast Coffee, Reel Mac and Cheese and Cravings Kettle Corn.
Last year this event sold out! Reserve your tickets in advance. Tickets on sale September 20.
Dates & times:
October 20-30, 5:30-10:30 pm (closed October 24)
New this year a second gate has been added, gates are located at the Burnaby Village Museum main entrance and the Carousel entrance, please note: Carousel will be closed for this event.
***PLEASE NOTE VISA-DEBIT CARDS NOT ACCEPTED THROUGH OUR SYSTEM, ALL OTHER MAJOR CREDIT CARDS ACCEPTED***
Note:
Tickets are non-refundable. No exchanges. No on-site door sales available. All available tickets are listed on the website.
For more info visit
Eerie Illusions Website
Event takes places rain or shine, so please dress comfortably.
PHOTO WAIVER FOR CITY PROMOTIONS:
By attending this event I hereby: (a) grant the City of Burnaby (the "City") and its elected officials, officers, employees, agents, contractors, nominees and delegates, including any photographers and/or videographer authorized by the City (collectively, the "City Personnel"), the right to take photographs, video and audio recordings of me at this event (collectively, the "Recordings"); and (b) authorize the City to use, and publish the Recordings in whole or in part for any lawful purpose, including for such purposes as publicity, advertising, promotion, editorial, web content, social media, public displays and exhibitions. The foregoing consent is effective on the date shown above and shall remain in effect indefinitely, unless I revoke it earlier, in writing.
I acknowledge and agree that the City owns and retains all right, title and interest in and to the Recordings. I hereby waive any rights to approve the use of the Recordings now or in the future, and waive any right to any royalties or any other form of compensation related to the use of the Recordings. I hereby release and discharge the City and City Personnel from any and all claims and demands arising out of or in connection with the use of the Recordings, including, without limitation, any and all claims for libel or violation of any right of publicity or privacy.
By attending the event, I confirm that I have read, understand, and agree to be bound by, the terms of the consent and release set out above. If applicable, I confirm that I am the parent or legal guardian of individuals also accessing the event with this ticket who are aged 18 years or under, and confirm that by purchasing, I have read, understand, and agree to be bound by, the terms of the consent and release set out above.
.