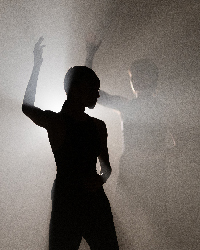 Gem-Like and Spooky Action
When
Runs from Wednesday May 25 2022 to Saturday May 28 2022
Approximate running time: 1 hour
Venue
Event Notes
×
NOTES:
Einstein's quantum physics as dance in this witty short film re-interpretation of Spooky Action
Gem-like (40 min)Inverso Productions - Lesley Telford
Gem-like is a premiere inspired by both the frustrations and the small "gem-like" moments experienced in long-term care with my mother.
Spooky Action Film (12 min)
We will also be screening a short film version of Spooky Action filmed by David Cooper based on our full length work. Spooky Action has been in development since 2016 and was an obvious choice for Inverso to convert into a film. With footage from the 2 km long jetty at Iona beach and the industrial space of the particle accelerator at TRIUMF UBC, this film captures the essence of quantum entanglement as a metaphor for relationships. Spooky Action is inspired by Einstein's famous phrase referring to particles that are so closely linked, they share the same existence. A collaboration with poet/performer Barbara Adler and composer James Meger, featuring Stéphanie Cyr and Eden Solomon, this film weaves together contemporary dance, poetic storytelling and original composition to extend the theory to human connections.
Entanglement as both pleasure and problem: how do we respond to connectivity that happens beyond our choosing? By turns intricate, refined, and dryly witty, Spooky Action brings together thought-provoking dance and engaging narrative to probe the mysterious ways we act on each other's lives.
Patrons can print E-tickets.
No refunds on tickets $2.00 fee per ticket for exchanges