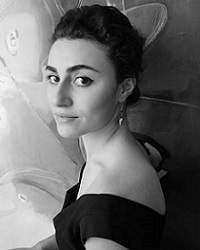 Lucy Yeghiazaryan & Grant Stewart
When
Runs from Sunday February 6 2022 to Sunday February 6 2022
Approximate running time: 1 hour and 30 minutes
Venue
Event Notes
×
From New York City: Lucy Yeghiazaryan & Grant Stewart with Chris Gestrin on piano, John Lee on bass and Jesse Cahill on drums
As a young immigrant who has brought the real richness of her heritage together with her love for what is truly American, Lucy beautifully sounds out the best expression of the American dream. Amid the cacophony of voices raging over immigration, this jazz vocalist sounds a very refreshing note. Since arriving from Armenia eighteen years ago at age 12, Lucy has enriched American jazz with a voice that is clear and strong, and with the release of her debut album Blue Heaven ( Cellar Live Records, 2019) critics and musicians agree that a new vocal force has arrived on the scene.
Tenor saxophonist Grant Stewart's clarion sound and command recall Sonny Rollins, but his chops put him on a special level. He is not an imitator, but an artist who further illuminates and even expands the domain of expression first. What separates Stewart from so many of his peers stuck in the quicksand of hard bop nostalgia is the sheer creative spark and spontaneity of his solos. When Stewart gets hot the questions of individuality evaporate amid the in-the moment thrills of his invention.
Tickets: Adults $35, Senior/Student with valid ID $30, Youth 12 and under $15
Proof of Vaccination Required for 12 & up
These are IN PERSON tickets please select the other event if you would like to purchase LIVESTREAMING tickets. Contact the box office at 604-205-3000 with any ticketing questions.
Patrons can print E-tickets. All tickets purchased online must be picked up at the Box Office, either during regular Box Office hours, or at Will Call. No refunds on tickets $2.00 fee per ticket for exchanges