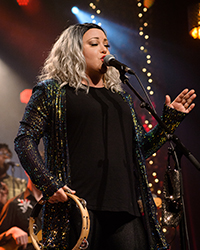 Samantha Martin & Delta Sugar with support Steve Marriner
When
Runs from Thursday November 24 2022 to Thursday November 24 2022
Approximate running time: 2 hours
Venue
Event Notes
×
Samantha Martin & Delta Sugar with supporting act Steve Marriner.
NOTES:
Martin is a dynamic front woman, she possesses a stunning voice that is capable of summoning up tidal waves of spine-tingling emotion in one instance while delicately bringing out the nuances of a gut-wrenching lyric in the next. A torrid force of nature, night after night she takes audiences to emotional peaks while leaving them stunned with her sheer pin-you-against-the-wall power.
On "Run to Me" Martin elected to record her emotionally wrought material with an expanded band, augmenting the core of Delta Sugar's gospel-infused harmonies with a full rhythm section, piano, organ and an ever-so-soulful horn section. The Reckless One continues in the same trajectory, further expanding the palate of sounds with vibes, mellotron, Wurlitzer, Hammond and Farfisa organs plus strings.
While Martin is a powerhouse unto herself, the vocal alchemy of Delta Sugar is not the work of a single talent. In combination with what she likes to term her "co-vocalists," the vocal blend that Delta Sugar produces is pure, unadulterated gospel-tinged, neuron-tingling magic where the sum is even richer than the already soul-melting parts.
Click here for Samantha Martin Website
No refunds on tickets $2.00 fee per ticket for exchanges