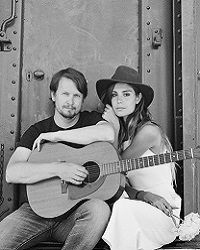 Ocie Elliott
When
Occurs on Thursday May 20 2021
Approximate running time: 1 hour and 30 minutes
Venue
Event Notes
×
Victoria,B.C.duo Ocie Elliott – Jon Middleton and Sierra Lundy– dream up dusty folk painted in broad strokes of acoustic instrumentation and lyrical eloquence meant for nights under the stars, long drives with no destination,and quiet moments of reprieve. After racking up over 15million combined streams and receiving acclaim from American Songwriter, Atwood Magazine, Pop Sugar, and more,the pair cement this balance on their 2020 EP, Slow Tide [Nettwerk].
Ocie Elliott came to life in 2017 on EP. In between sharing stages with everyone from Mason Jennings and Sons Of The East to Kim Churchill and Joshua Hyslop, they launched a series of covers on YouTube shot in the backseat of their Honda CRV, performing intimate renditions of Elliott Smith, Gillian Welch, John Prine, and Simon & Garfunkel, to name a few.On the heels of 2019's We FallIn, the single "RunToYou" appeared in a slew of television shows, including Grey's Anatomy, Batwoman, Legacies and more. 2020 proved to be their most prolific year yet kick started by the InThat Room EP, and following it up with the critically acclaimedTracks EP. At the top of the summer and in the midst of the Global Pandemic, Sierra and Jon retreated to an oceanside bungalow in Ladysmith on Vancouver Island for three days.The peace around them melted into their songwriting.
By achieving balance together on Slow Tide, Ocie Elliott might just help listeners do the same.
Ocie Elliott Website