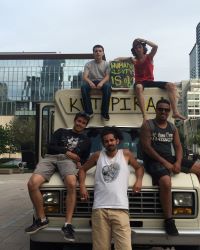 Kutapira
When
Occurs on Thursday April 29 2021
Approximate running time: 1 hour and 30 minutes
Venue
Event Notes
×
7:00pm - pre-recorded dance performance by Amber Funk Barton/the response: How To Say Goodbye
8:00pm- Livestreaming performance by Kutapira
Kutapira is a marimba and percussion ensemble formed in 2005 in East Vancouver. The band is made up of five musicians, ages 25-30, who started playing this fusion of world music when they were kids over 15 years ago. At the core of this band is the marimba music of Zimbabwe, fused with West African djembe, Afro-cuban conga's and timbales and traditional drum kit which provides a steady driving groove. All members switch seamlessly between marimba and percussion.There is a magic created at the shows between audience and band members.
Kutapira Website
Amber Funk Barton/the response:
How to Say Goodbye l THE FINAL CHAPTER
Choreography and Direction: Amber Funk Barton in collaboration with Isak Enquist, Katie Cassady and Josh Martin Dancers: Isak Enquist, Katie Cassady, Amber Funk Barton Music and Sound: Marc Stewart Dramaturgy: Heidi Taylor Intern: Amanda Testini
The creation of How to Say Goodbye began in the fall of 2019. Since the pandemic of COVID-19, the themes of absence, the passing of time, memory and the inability to leave a space and/or relationship has taken on a whole new urgency.
During the early summer of 2020, the company decided to conduct their next rehearsal process over 5 weeks via Zoom with support of the City of Vancouver. This led to the creation of a solo series presented by the Shadbolt Centre for the Arts, showcasing the work of three haunting solos.
the response. returns to the Shadbolt this Spring to revisit these solos, stringing them together in chronological order as they were originally shown in. In addition, a final section will see all the dancers together in the space, socially distanced, masked and dancing together. This final chapter of the work will also mark the last creation Amber Funk Barton makes for the company as she prepares to step down from her role as Artistic Director. Barton will also perform in The Final Chapter of How to Say Goodbye.
Bittersweet dreams, muscle memory and the continued longing to be together in the same space remain the driving force behind The Final Chapter of How to Say Goodbye.