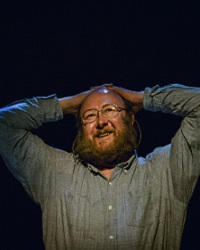 Between Breaths
When
Runs from Wednesday March 25 2020 to Saturday March 28 2020
Approximate running time: 1 hour and 10 minutes
Venue
Performance Notes
×
ARTISTIC FRAUD OF NEWFOUNDLAND
A play based on the real life events.
Well known in Newfoundland as the Whale Man, Dr. Jon Lien pioneered techniques for rescuing whales entrapped in fishing nets. Often risking his very life in the water with the formidable and frightened animals, Dr. Lien would seek to earn their trust as much as the fishermen's. He looked for the best way to free whales while doing as little damage to the fishing gear as possible. His efforts saved the lives of over 500 animals, and earned him the hard-won respect of the island's fishermen.
Between Breaths jumps time backwards, from the final moments of Lien's life – in a wheelchair and dealing with brain damage due to a car accident – to his very first whale intervention. As his life becomes further and further confined, his mind stretches itself in memories of release and salvation.
NOTES:
Patrons can print E-tickets. Tickets purchased online can be picked up at the Box Office, either during regular Box Office hours, or at Will Call. No refunds on tickets $2.00 fee per ticket for exchanges